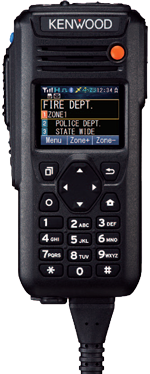 Click here to enlarge.
The KCH-21R ia a speaker microphone with a full-featured control head, which enables one-hand operation of PTT, volume and channel selection. Designed to be used with the KENWOOD NEXEDGE® NX-5000 Series mobiles, the control head's large, bright 1.74" LCD display makes it easy to do at-a-glance status checks. The 14-character full-color display has 5 lines for customizable menus and icons and the 7-color LED display at the top of the unit can be used for quick visual alerts, even in low light and high noise environments. The KCH-21R has built-in Bluetooth® with HSP (headset) and SPP (serial port) profiles and a powerful built-in speaker with 1W output, supported by active noise reduction.
The KCH-21R was designed in collaboration with our fire service and police customers who asked us for easy, intuitive one-hand operation. Our public safety customers also wanted to be able to remotely control multiple NX-5000 Series RF decks, which many of our customers use in their vehicles to enable full tri-band receive and transmit.
FEATURE HIGHLIGHTS
Speaker microphone with full-featured control head

Handheld design offers one-handed operation of PTT, volume and channel selection
Designed to work with the NX-5000 Series mobile radios using Control Head Remote Kit

Intuitive operation similar to that of the KCH-19 and KCH-20R control heads
AUDIO FEATURES
Built-in speaker with 1 W output

Active noise reduction for a single microphone enabled by DSP on the radio

3.5mm-diameter earphone jack on the bottom
DISPLAY FEATURES
Large 1.74-inch TFT/transflective LCD for at-a-glance operational status checking

Intuitive GUI - 14-character full-color display with 5 lines for menus and icons

7-color programmable LED located at the top for easy recognition
OTHER FEATURES
Multi-head/Multi-deck Configuration

Built-in Bluetooth® with HSP (headset) and SPP (serial port) profiles

Data interface for radio programming, keyloading and data I/O

Optional adapter for the RF Deck (KRK-15BM Control Head Remote Kit) is required

for connection to the mobile radio
MULTIPLE REMOTE CONTROL HEAD CONFIGURATION
Intuitive graphical UI is used even for the selection of multiple RF decks.
Dual Remote Control Heads x Multi RF Decks
Dual Remote Control Heads x Single RF Deck